A Complete Guide to Moving to El Dorado Hills
Why the heck is everyone moving to El Dorado Hills?
Are you considering moving to El Dorado Hills, California anytime soon? Make sure you read this article first! You want to know what you're getting yourself into, right? Is moving to El Dorado Hills really for you? I'll do my best to temper my strong pro-El Dorado Hills bias and just stick to the facts. Also be sure to check out the affordability of El Dorado Hills Homes For Sale. You'll see that compared to most other major cities, buying a home in El Dorado Hills is still extremely affordable.
Moving to El Dorado Hills? Unless you have spent a fair amount of time in El Dorado Hills, you have probably fallen victim to at least one of the many misconceptions about the good people of El Dorado Hills. For example, we are not all just off the farm! And, we don't all work for the government! (Not that there is anything wrong with either of those things!)
Yes, you can actually find a decent meal here. If you're coming from the Bay Area, you'll be surprised! I've actually heard wild rumors that some people have even called Sacramento the Farm-to-Fork Capital! Crazy right?
All joking aside, you'll love moving to El Dorado Hills. We are so lucky to live in such a beautiful area, with so much to do and so many great people. If you still need some convincing, you're in the right place. I did my best to narrow it down to these top reasons why you'll love moving to El Dorado Hills. I have been living in El Dorado Hills since 2004, and I'm not going anywhere. Living in El Dorado Hills just keeps getting better and better. I'm certainly a VERY outspoken proponent of moving to the El Dorado Hills area.
Semi-Boring Facts about El Dorado Hills:
El Dorado Hills Population: 46,593 (2022)
Sacramento Metro Area Population: 2,123,000
El Dorado Hills Median Home Price : $1,100,000 (March, 2022)
Median Household Income: $132,120
El Dorado Hills has Amazing Views!
Those of us who live in El Dorado Hills may take the beauty of the mountains and our city for granted. I still wake up each morning and look to the East because I know I'm going to see a truly amazing & colorful sunrise. Where else can you have breathtaking, National Geographic-worthy views of sun rising over the Sierra mountain range, and then a stunning view of the sun setting over Folsom Lake and the California Coastal Range to the West in the very same day? If you're moving to El Dorado Hills, you can enjoy it, too!
Compare Housing Costs with this Cost of Living Calculator
The closer to the mountains to the East you get, the more "in your face" and intense the view gets. Drive less than an hour east of El Dorado Hills and you're in the beautiful Sierra Mountain Range and world-famous Lake Tahoe Basin. What an awesome benefit to moving to El Dorado Hills!
When you combine our majestic mountains with a sunrise or sunset, you'll quickly notice a major reason why so many people are moving to El Dorado Hills. From early morning sunrises so colorful and amazing that you your day begins with joy and gratitude, to the late afternoon sunsets so powerful that people young and old can't help but post it on their Instagram or TikTok. I mean it, it's crazy. Every time we have one of those extra special sunsets in El Dorado Hills (which is most of them) your news feed will be plastered with everyone's sunrise/sunset pics. It's funny, but also it's a testament to the natural beauty that we take for granted here in El Dorado Hills… and a reason why YOU should consider moving to El Dorado Hills. Seriously though, all the cool kids are moving to El Dorado Hills!
Sacramento Area Jobs Are Easy to Find
According to Glassdoor, there are countless job openings in Sacramento , California. Drive around Sacramento for just a few minutes and you'll notice all the cranes, building new office buildings and condo towers all around downtown Sacramento! It's crazy. All around the Sacramento valley, you see office buildings going up. Downtown Sacramento is home to the brand new, state-of-the-art Golden 1 Center, home of the Sacramento Kings and quickly becoming a must-stop venue for the top touring acts in the country.
It's hard for some to believe, but Sacramento's economic growth is outpacing California's other cities! And of course the vast majority of that growth is from Sacramento jobs. Many are moving to Sacramento to get in on this great local economy.
A solid, healthy job market also is a great thing for home values. If you own a home in Sacramento, and we keep growing and growing like we have been, you'll be on the winning end of a nice big chunk of equity.
Sacramento is Very Hip
Travel & Leisure recently named The Sacramento metro area joins places such as San Francisco and Seattle on the magazine's list of America's coolest cities, released Wednesday. Sacramento ranks No. 14 on the list, sandwiched between Miami and San Antonio.. Not too shabby! When the majority of people you run into on a daily basis are friendly, courteous, and happy, we call that "a clue." If Sacramento were a lousy place to live, would everyone be so dang happy and friendly all the time? It's funny to hear people who have moved here from New York City or Chicago talk about how "weird" we are in Sacramento. Some actually think it's weird to smile at strangers on the street. I remember a conversation with a businessman from New Jersey who told me that "there must be something in the water here" to make people so happy. He was used to people being so busy and in a rush and everyone looked out for themselves. In Sacramento, it's strange when the person in front of you doesn't hold the door open for you!
We all want the best for our kids, and the environment in which children are raised matters a great deal. As a father, I'm excited to raise my kid in this city. My sons grew up around kids raised by other great, happy people.
Tahoe Ski Resorts – America's Favorite Winter Playground
One of the best parts of moving to El Dorado HillsEl Dorado Hills is its proximity to Lake Tahoe. Truly the crown jewel of the High Sierra, Lake Tahoe strategically straddles two states bringing together California's laid back vibe with Nevada's anything goes attitude. One of the most beloved ski regions on the planet, Lake Tahoe boasts fifteen downhill resorts and seven cross country areas, more resorts in close proximity than any other winter destination in North America.
It's easy to start tossing around superlatives when it comes to describing Lake Tahoe, just take a look at recent accolades bestowed on the region by trusted ski and travel authorities. USA Today voted it "America's Best Lake" while Travel + Leisure christened Lake Tahoe the "Most Beautiful Lake in America." It's perennially been on the New York Times list of "Best Places to Go" and Powder Magazine named it "the most iconic, influential ski region in North America."
Home to the 1960 Winter Olympics, Lake Tahoe's storied history has included many colorful, celebrity figures that helped carve its prominent place in ski lore: Frank Sinatra owned a casino, Stein Eriksen served as a regional ski school director and Hot Dog the Movie was actually filmed on the slopes of Lake Tahoe. Don't be surprised to be sharing a chairlift with an Olympic gold medalist as the list of professional athletes who call Lake Tahoe home reads like a "who's who" in the sport: Jonny Moseley, Julia Mancuso, Glen Plake, Jamie Anderson, Shane McConkey, Jeremy Jones, Scott Schmidt, Shaun Palmer, David Wise…and the list goes on and on.
So just what is it that makes Lake Tahoe one of a kind? Beyond its obvious natural beauty and pristine mountain setting, Lake Tahoe also benefits from reliable snowfall without too many grey skies: more than 450 inches of annual snowfall while still seeing close to 300 days of sunshine. The region also offers an endless variety of winter vacation experiences both on and off the slopes, uniquely including Vegas-style gaming and entertainment. Factor in the convenience of the Reno-Tahoe International Airport – which has yet to close due to snow – and you can quickly see why Lake Tahoe sits atop of most people's "must-ski" list.
El Dorado Hills Traffic is "pretty dang mild"
You're probably laughing about how I worded that, but it's true! El Dorado Hills traffic is by no means utopian, but compared to Los Angeles, Dallas, San Fransisco, or Atlanta, our traffic situation is very mild. If you ask a El Dorado Hills resident (who has lived here their entire life and doesn't travel much) about El Dorado Hills traffic, they'll say it sucks. But they lack perspective! Sure it's not perfect, but we're a major U.S. city with a growing population. Of course we have traffic. But have you ever driven in other cities like Denver, Los Angeles, Dallas, Seattle, etc? Traffic there is HORRIBLE! When you consider how bad traffic is in many other parts of the country, we have it pretty dang good here in El Dorado Hills. I travel around the country quite often and one major benefit to that travel is that I've developed a serious appreciation for how good we have it in El Dorado Hills. Don't even get me started about rush hour traffic in L.A., Denver and Atlanta…
The other day I was talking to a woman who was visiting from San Francisco. We were in the middle of El Dorado Hills around 6pm. When I asked her what she likes most about Sacramento, the first words out of her mouth were, "You don't have any traffic here!" Like I said earlier, El Dorado Hills traffic is pretty awesome.
Sacramento Homes For Sale – by City/Neighborhood
Living in El Dorado Hills is very affordable
Homes for sale in El Dorado Hills are some of the most affordable in the nation. You can actually still find a starter home in a decent part of El Dorado County for under $800,000, although those days are coming to an end sooner than later. Don't just take our word for it… Whether you're searching for a condo in Downtown Sacramento, a house in Citrus Heights, East Sac, or in a suburb of Sacramento like Elk Grove, Rancho Cordova, Folsom or Roseville… you'll quickly find that homes are priced very reasonably for the quality of life, low cost of living, and economy.
Getting a chance to live in a short drive to the mountains is just an added bonus! Many people would certainly pay a hefty premium for such picturesque mountain views , but not here
To put our low cost of living in perspective, housing costs in Sacramento are 75% lower than in San Francisco, while "you would need around $4,500 in Sacramento, CA to maintain the same standard of life that you can have with $7,900 in San Francisco, CA.
We have GREAT Restaurants in El Dorado Hills
The Sac Bee's Top 50 Restaurants for a Post-Pandemic Sacramento
When I moved to El Dorado Hills in 2004, I sure as heck don't remember there being this many world-class restaurants. It seems like over the last 18 years, a whole slew of great restaurants have popped up in and around El Dorado Hills. Truth is, no matter what part of town you're in, you're never far from your next "Best meal ever!" From great local burger joints to formal sit-down dining options from literally every corner of the world, you will find exactly what your tastebuds are craving any time of day. You'll need to eat some pretty hefty meals with all that time you'll be spending outdoors! Sacramento's reputation as the Farm to Fork Capital is well deserved!.
Restaurants in Sacramento have actually received quite a bit of attention from the Food Network and the Travel Channel, specifically from the show Diners, Drive-Ins and Dives. These Sacramento restaurants have been featured on the show. When major networks spend their time and money to visit Sacramento, take that as a clue the restaurant they're visiting must be fantastic.
If you are moving to El Dorado Hills, you won't find a shortage of great meals! I'll spare you from a giant list of all our great restaurants in Sacramento, but there are 10 of my personal favorites that are so good and such well known restaurants in Sacramento that it would be a crime to not mention them. I don't want you angry with me!
You better believe I have even more to tell you about, so if you want more recommendations for restaurants in El Dorado Hills, just ask! After living in El Dorado Hills for so long, I have built up quite a list of favorites. Jeez, now I'm hungry just thinking about them.
El Dorado Hills Weather
As someone who has been living in El Dorado Hills for 20 years, I can say that El Dorado Hills weather is great, and never gets boring. We have 4 very distinct seasons here, different from our friends in the Bay Area or in Southern California. I have grown to love each season for what it is and when the seasons start to change, it's exciting. On average, El Dorado Hills is sunny 250 days each year. Not many major American cities offer this great weather. Before moving to El Dorado Hills you need to know that it can get very hot in the summer, and fairly cold in the winter. I wouldn't have it any other way!
Extreme heat is more common than extreme cold in El Dorado Hills, with temperatures exceeding 100°F on average of 23 days per year only 13 times each year below freezing. The average low in January is 39°F.
El Dorado Hills' overall average temperature is just under 61°F, with January being the coldest month and July the hottest. If you're looking for 70 degrees year round, moving to El Dorado Hills may not be the best idea. You'll be happier in Florida or San Diego, although their cost of living is much higher. However, if you want to experience the four seasons surrounded by beautiful scenery, lakes, rivers, and mountains, then moving to El Dorado Hills is definitely something to consider. In late winter months, it's not uncommon for our El Dorado Hills weather to allow you to ski and golf in the same day!
El Dorado Hills Crime is Low
If you want a safe place to raise your family, then moving to El Dorado Hills is a wise move. El Dorado Hills, California is known for its wide, clean downtown streets, beautiful mountains, and friendly people, making it a great vacation destination for tourists as well as a great place to call home. For the vast majority of our city, crime is quite low and rare. However, like all other major cities, there are some areas to avoid in Sacramento.
While growing up in Northern California and living in El Dorado Hills since 2004, I have friends living all over the Sacramento valley (East Sacramento, Gold River, Folsom, Granite Bay, El Dorado Hills, Cameron Park, and Placerville among others). I am a father and husband, and raised my boys in El Dorado Hills, I can honestly say that in general, I feel very safe here. The general feeling among residents here is that El Dorado Hills crime is minimal.
If you're moving to El Dorado Hills and want to ask about specific neighborhoods that are more safe than others, please feel free to reach out. I'd be more than happy to share my intimate local knowledge and experience with you.
El Dorado Hills Schools
If you're considering moving to El Dorado Hills, you'll obviously want to think about the El Dorado Hills schools your kids, or future kids, will be attending.
El Dorado Hills is served by three award-winning school districts, Buckeye Union Elementary, Rescue Union Elementary, and El Dorado Union High School districts. The public schools in El Dorado Hills are award-winning schools that rival the best in the region and the Bay Area.
The public schools in El Dorado Hills offer a wide range of education programs including STEM, GATE, and a range of charter options including Montessori, a Mandarin Immersion program, and new International Baccalaureate Middle Years Programme at two middle schools.
Extracurriculars are widely available for all interests. Sports and cheer; science, computers and robotics; world languages; music, arts and theater; leadership; more!
The Sacramento area has several major universities and colleges, some of which are known nationally for specific programs. A couple of the well known universities include the University of California. Davis, ten miles from downtown, and Sacramento State University, just minutes from downtown Sacramento.
As for the local high schools, junior highs, and elementary schools in El Dorado Hills, there are many resources that can be used to check the ratings of the schools in the El Dorado Hills area. One of the best resources is GreatSchools.org which provides detailed statistics on the local high schools, which can be found here.
If you're moving to El Dorado Hills, Click here to search El Dorado Hills homes for sale…
Sacramento Area Sports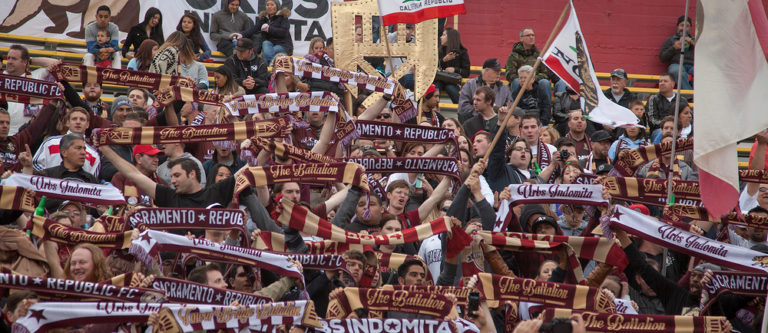 Sacramento is home to a few major sports teams, both professional and college. Living in El Dorado Hills is great if you're an NBA basketball fan. Sacramento is the home of the Sacramento Kings of the NBA.
Soccer fans moving to Sacramento will be happy that we are home to Republic FC of the USL and the team is hopeful to be named a Major League Soccer (MLS) expansion team. Sacramento is soccer crazy, drawing more fans to Republic games than many MLS teams do! Baseball fans can get thier fix, too! Sacramento is also home to the River Cats, the AAA affiliate of the San Francisco Giants.
If you're moving to Sacramento and love the MLB, NFL or NHL, don't fret, Sacramento is under two hours drive to Oakland and San Francisco, home to the Oakland A's, Oakland Raiders, and San Francisco Giants. Just a little farther south are the 49ers and San Jose Sharks.
Sierra Nevada Mountains Are So Close and Easy to Get To
Where do I even start? The Sierra Nevada are absolutely stunning, and they are right there in front of us… less than 90 minutes east of El Dorado Hills. Even after living in El Dorado Hills for so many years, I am still in awe every single day of the beautiful Sierra Nevada range that our area is blessed with. When moving to El Dorado Hills, you'll quickly notice how the El Dorado Hills area is almost completely surrounded by mountains. From the Sierra mountains on the east to the Coastal Range mountains to the west, you're all but guaranteed a great mountain view from pretty much anywhere in the valley.
El Dorado Hills is Easy to Travel To/From
When choosing a new place to live, it's important to think about how easy (or hard) it will be to travel in and out. You may have family who wants to visit you after moving to El Dorado Hills, or you may travel frequently for business. You surely want a major airport right there in your city. It's a pain to live away from a major airport. El Dorado Hills is super easy to travel to and from because of the Sacramento International Airport (Sacramento). All the major airlines have a presence here. If there's somewhere you want to go, you can get there easily from El Dorado Hills.
Final Thoughts on Moving to El Dorado Hills
If you're moving to El Dorado Hills or are considering it, as you can now see, El Dorado Hills is truly a fantastic place to live, work, and play. You'll never run out of things to do and there will always be more friendly people to meet. If you're seriously thinking about moving to El Dorado Hills, or just have a few more questions before deciding, please don't hesitate to contact me with any questions about the El Dorado Hills area.
Still Have Questions?
Still have questions about moving to El Dorado Hills? You can let me know a good time to give you a call HERE, or shoot me a text at 916.941.6566. I have lived here for 20 years and definitely know a thing or two about El Dorado Hills. I can provide you with whatever information you're looking for, or at the very least, point you in the direction of where to find it. If you've already decided the El Dorado Hills area is the place for you, I can also help you answer answer questions about the real estate market and which neighborhoods will fit what you are searching for!
Let's Talk El Dorado Hills!
---
Search For Properties