September 27, 2021
Prices are Up, Sales are Down.
What Is The Market Telling Us?
---
Curious how much your home would get you in this market?
Get a no-obligation evaluation!
Just fill out the form below:
---
---
---
August 12, 2021
Has the Local Real Estate Market Crested?
Not so fast…
The El Dorado Hills market is as hot as ever!!
Curious how much your home would get you in this market?
Get a no-obligation evaluation!
Just fill out the form below:
---
---
---
July 9, 2021
Is the Real Estate Market Beginning to Slow?
Here's what the numbers show
The $1M+ Market is the strongest we've ever had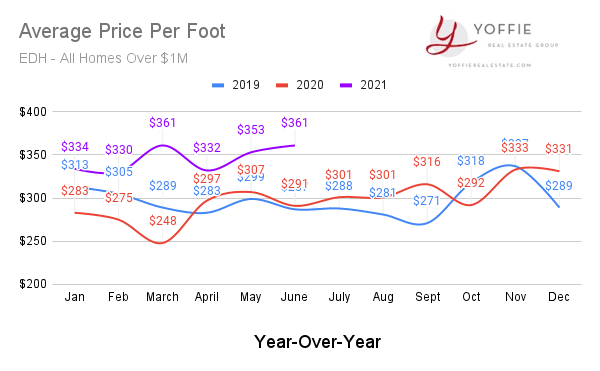 An interesting anecdote, we are seeing the most expensive homes asking prices that we've rarely seen before in El Dorado Hills.
As of today there are 9 homes in El Dorado Hills for sale with an asking price of $3 million or higher! (Click Here to see them)
So far this year there have been only 2 sales over $3M, our $4.3M sale at 4473 Greenview Drive and a $3.3M ranch home on 146 acres along Green Valley Drive.
We'll have to wait to see how many buyers there are at these new prices.
---
---
May 9, 2021
The Average Sales Price in El Dorado Hills Has Topped $1 Million For the First Time
Just one year ago, the average sales price of a home in El Dorado Hills was $746,000 and we were staring down the barrel of a global pandemic the likes of which none of us had seen before. Today, with more homes than ever selling for over $1 million, the average sales price of a home in El Dorado Hills is 33% higher and over $1 million for the first time ever
At the same time, the average price per foot for homes sold in EDH has surpassed $300 per foot and has continued to climb.
Demand continues to outpace supply and almost 3/4 of homes sold in April had multiple offers
Have more questions about our local market? Considering buying or selling? We are here to answer any questions you have! Please give us a call! 916.941.6566
Read More From Our Many Satisfied Clients!
---
March 30, 2021
Preliminary March Sales Numbers Show a Tightening Market for Buyers
In a typical March we'd expect to there would be in the neighborhood of 160 homes for sale in El Dorado Hills.
As of today, there are only 34 homes for sale in ALL of El Dorado Hills!
The lack of inventory has not slowed sales – yet!
EDH home sales for March are tracking AHEAD of the past two years!
If you have questions about El Dorado Hills real estate, please give us a call! 916.941.6566
---
March 18, 2021
The EDH Luxury Market is Hitting New Highs
For El Dorado Hills homes in the over $1 million price range, sellers are seeing prices near or at all time highs.
The average sales price in this range was $1.45 million in February, 18% above last February.
The average price per square foot of homes sold increased from $275/foot to $330/foot, an increase of 16%.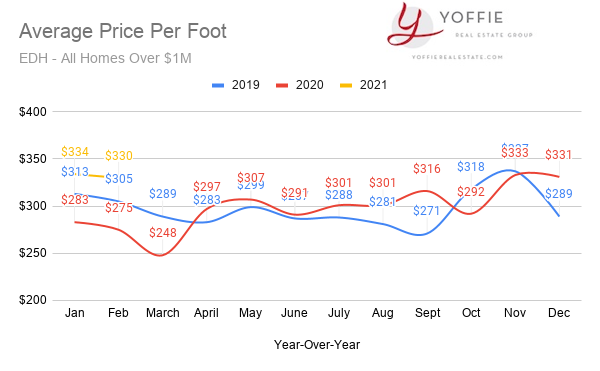 The number of El Dorado Hills luxury homes sold in February doubled from last year, showing that there is a strong buyer pool even at these higher prices.
An even higher number of El Dorado Hills luxury homes went into contract in February. Over 3x as many luxury homes went into contract in February as had just one year prior. These contracts foretell a very strong sales number in march.
The number of luxury homes for sale in El Dorado Hills continues to lag previous years.
With March, we hit the one-year mark from when the Covid pandemic forced shutdowns and introduced travel and real estate restrictions. As March numbers are released in the coming weeks, I expect we will see an increasingly dramatic difference in sales and prices when compared with 2020.
---
March 9, 2021
Multiple Offers & Sales Over Asking Price are Almost Normal Right Now
In a typical market, 30-40% of sellers will see competition for their home in the form of Multiple Offers (offers from more than one buyer).
In February, 72% of home sellers in El Dorado Hills had more than one buyer write an offer to purchase their home.
With so much demand and so few homes for sale, it's not a surprise that homes are selling for higher prices than we've ever seen in this market. The average sales price has been over $900,000 for the past three months.
The average price was $956,000 in February, and increase of 29% in one year!
Another measurement we watch is the average cost per foot. At $310 per square foot, the cost per foot of EDH homes sold in February increased 26.5% from February a year ago.
Of course, very few homes are "average"! There is almost no question that your home would sell for significantly more now than it would a year ago, but to know by exactly how much, we'd need to do some calculations for you.
Curious what your home might sell for in this market? Give us a few details about your house at the link below and we'll run a report for you!
No Obligation Home Value Report
(You don't need to be selling to get this report, we'll run the report for you even if you're just curious!)
---
March 3, 2021
The El Dorado Hills Home Inventory Shortage Can Be Seen in February Home Sales
With the number of available homes for sale in El Dorado Hills less than half of last year's inventory, February's monthly home sales fell for the first time in recent memory.
EDH home sales were down 21% compared with February 2020 and down 26% from January's numbers.
The drop in sales numbers belies the continuing strong seller's market. The numbers above show that February sales numbers were the equivalent of 74% of the total for-sale inventory. Comparatively, only 41% of available homes sold in February 2020.
---
February 15, 2021
El Dorado Hills Luxury Homes Are in High Demand
With 10% fewer luxury homes for sale than last year, it might follow that demand has softened.
Instead, sales of El Dorado Hills homes priced over $1 million continue to set records.
---
---
---
---
---
---
---
---
---
Curious what your home could sell for in this market? Let's talk!
---
February 8, 2021
Homes Sales Have Started Off in 2021 Right Where They Left Off in 2020
Lack of for sale inventory continuous to be the theme driving the El Dorado Hills real estate market.
Fewer than half the number of homes were for sale in January as compared with January a year ago.
---
The lack of inventory has not deterred buyers. Year-over-year EDH home sales were up 50% in January!
---
Homes sold 3x faster this January than last.
---
And the average sales price increased 16%.
---
The average price per foot increased even more, it is up 19% when compared with January 2020.
---
What does all this mean for you and the value of your home?
Let's chat and find out!
---
---
February 1, 2021
Luxury Homes Flew Off the Market During Q4
During a holiday period where homes more typically take longer to sell, luxury homes were flying off the market in El Dorado Hills. Not only did they sell quickly, the pace of sales accelerated through December.
All throughout the 4th quarter luxury homes far outpaced sales during Q4 2019. In December, homes that sold for over $1 million in El Dorado Hills sold more than 5x more quickly than they had a year prior!
January shows all indications that the trend is continuing into early 2021. (We will be posting January numbers in the coming days).
---
January 29, 2021
Just How Hot Has the Luxury Market Been in El Dorado Hills?
There might not have been a time where there has been so much competition among buyers for luxury homes in El Dorado Hills.
Starting in May 2020 the number of homes selling for above asking price started to rise. From June through December we saw multiple offers in the $1M+ range outpace 2019 by 5-11x.
---
During the last three months of the year close to half of all homes sold in the $1M+ segment sold above asking price.
---
What was driving the over-asking price sales? Competition amongst buyers!
The number of luxury homes sold with multiple offers went through the roof the entire second half of 2020 and continued to climb into December, a typically slower sales month.
---
During the last three months of 2020, a full 2/3 of the homes that sold for over $1M saw multiple offers. 70% of them had multiple offers in December!
There can be no questions that demand is far outstripping supply. The buyers who made offers but did not get the deal are still shopping!
So far in January, all indications are that the market strength has continued into the new year.
If you have been considering selling, we should be talking!
If you want to get your offer accepted in this competitive market, we have had great success for our buyers in recent months and can help you, too!
Let's talk! The coffee is on us!
---
January 25, 2021
Sales Up 25% While Inventory Drops by Half
El Dorado Hills home sales through January 24 are already 25% ahead of the the full month sales from January a year ago.
This is happening while available inventory is less than half of what it was a year ago (see below)
---
January 22, 2021
Housing Inventory is at All-Time Lows
Buyers continue to find that there is a shortage of available homes for sale in El Dorado Hills.
Current Trendgraphix numbers show only 53 homes for sale. By comparison, there were 119 homes for sale a year ago and 135 two years ago.
Many buyers are finding themselves competing with other buyers over the few available homes. Sellers, on the other hand, are in the catbird's seat if their home is well-prepared, well-marketed, and well priced.
---
January 20, 2021
Cash Buyers Up in Numbers, Flat in Percentage of El Dorado Hills Transactions
---
With 76% of homes seeing multiple offers in December, it is to a buyer's advantage to make an offer as cash heavy as possible. Removing appraisal and loan concerns can make your offer much stronger in the eye of a seller.
---
January 11, 2021
Median Price and Average Cost per Foot have reached new highs in El Dorado Hills!
In December of 2019 the median price of homes sold was $628,000. In December of 2020 the media had jumped to $790,000, a 26% increase in 12 months!
The December average cost per foot was $303, up from $250 per foot just one year ago. The 20% increase, across all price points, is indicative of the level of demand and the lack of for sale inventory available in El Dorado Hills.
---
January 4, 2021
For Sale Inventory Continues to Lag
Across all price points in El Dorado Hills, 62% fewer homes were for sale in December than were for sale in December of 2019 (45 vs. 118).
This continues the trend we've seen since April.
---
In the $1M+ market, there were 19% fewer homes for sale in El Dorado Hills this December compared with 2019 (26 vs. 32).
23 homes in this price point sold in December, an increase of 283% above December of 2019. With only 26 $1M+ homes currently on the market, you can see how fast well-prepared, well-marketed, well-priced homes can sell!
No one can say what the future will bring.
If you are selling this year, now is the time to be preparing!
Contact us today to get our FREE Consultation that will help you sell quickly and at top dollar!
---
2020: The Year in Graphs
December 2020
El Dorado Hills experienced a very strong seller's market since re-opening in April after the spring Covid Stay-at-Home order. Since the market re-opened, it has been as hot as any market we've experienced in El Dorado Hills.
Demand continues to outstrip supply, increasing average sales prices and decreasing the number of days the average sale has taken. Our sellers are seeing buyers from throughout the Sacramento area, the Bay Area, Southern California, and from around the country!
If you are selling in 2021, now is the time to begin preparing your home for looks to be a very strong year ahead for the local real estate market!
Luxury El Dorado Hills Real Estate
Sales Over $1 Million
If you have questions about your home, about sales activity in your neighborhood, or if you are looking to buy or sell in 2021, now is the time we should be talking!
Call or text us anytime: 916.941.6566
---
---
"We continue to strongly recommend the Yoffie Real Estate Group!"
---
---
---
The Freddie Mac Primary Mortgage Survey
Weekly Report
The Freddie Mac Primary Mortgage Survey released on April 30, 2020, reported mortgage rates for the most popular loan products as follows: The 30-year fixed mortgage rate average was 3.23% down from 3.33% last week. The 15-year fixed was 2.77%, down from 2.86% last week. The 5-year ARM was 3.14%, down from 3.28% last week.
Monthly Report
The April 30, 2020 Freddie Mac Primary Mortgage Survey reported that the 30-year fixed mortgage rate average was 3.23%, down from 3.33% on April 2, 2020. The 15-year fixed was 2.77%, down from 2.82% April 2. The 5-year ARM was 3.14%, down from 3.49% on April 2, 2020.
Unemployment
Unemployment rates continue to rise, over 30 million workers have been laid off in the last six weeks. Unemployment is at the highest rate since the Great Depression. The good thing is, many of these individuals will become rehired once the business is permitted to re-open.
US Home Sales
Home sales have not dropped as much as predicted. The March 2020 US Home sales report – The National Association of Realtors reported that the total existing-home sales in March fell only 0.8% from the number of sales in March 2019. While these homes went under contract prior to the crisis, it is still a positive as the deals are still closed. The median price for homes is up 8% from last March. The median price of homes has risen every month for the past 97 years.
California March Home Sales Report
The California Association of Realtors announced that existing single-family home sales totaled 373,070 on a seasonally adjusted annualized rate in March, down 6.1% from the number of sales in March 2019. The Statewide median price paid for a home in March was $612,440, up 5.6% from February and up 8.3% from one year ago. The median price is the point at which 1/2 the homes sell for more 1/2 the homes sell for less. There was a record low 2.7 month supply of homes for sale in March compared to a 3.6 month supply in February and a 3.6 month supply of homes for sale last March. The reason for this drastic decline, is everyone taking their homes off of the market. Inventory, which was already low, has become anemically low.
---
April 6, 2020
El Dorado Hills Market Stats for the Past Week:
Active Listings: 170
Homes in Contract: 59
Closed Sales: 10
---
March 30, 2020
Monday morning check in and a quick word about real estate being deemed, "essential."
Nothing is more essential than you, your family, your health, and beating this virus.
More of my thoughts in the video below. Stay safe!
---
March 27, 2020
The El Dorado Hills real estate market is showing much more activity than you might have expected.
In the last 2 days in EDH:
– 6 sales have closed
– 9 homes have gone pending
– 18 new listings came on the market
– 3 sellers dropped their price
– 1 listing was canceled
The market looks healthy when you look at those numbers!
---
March 21, 2020
El Dorado Hills Real Estate Update
El Dorado Hills real estate activity over the past 24 hours:
6 New Listings
2 Properties Back On the Market after Being Off Market
2 Price Reductions
4 Homes Put in Contract
2 Sales Closed
5 Homes Temporarily Off Market
1 Listing Canceled
Anecdotally, we put one home into contract yesterday and submitted an offer on another for one of our buyers.
The California Association of Realtors has asked its members to curtail the showing of homes and to not conduct open houses. The Association has no legal authority and buyers and sellers, as of yesterday, agents were conducting showings here in El Dorado Hills.
We are recommending:
Curtailing face-to-face interaction
Viewing homes via virtual showings
Putting your health and the health of everyone you may come in contact with at the top of your priority list.
Given the above, we are still working with clients daily on both the buy and sell side. We have been very impressed with how quickly people have adapted to the new protocols.
Since we are all going to be home for a while, this is a great time to tackle the projects you've been putting off around the house! Deferred maintenance is the #1 issue we find when viewing homes. Why not catch up a little?
---
March 2020
Real Estate in the Time of Coronavirus
What is in store for buyers and sellers?
As of this writing on March 12, there are no reported cases of COVID 19 in El Dorado County.
(I am getting daily updates through my role on the Buckeye Union School District Board of Trustees. -Jon)
Clearly, we aren't medical experts and don't have any special knowledge as to how far and wide the coronavirus will spread and what the consequences will be. Our expertise is in residential real estate purchases, sales, marketing, negotiating, etc. Anything we share is strictly related to those specific areas.
As a market, we are heading into what we would normally expect to be the busiest time of year for residential real estate sales. So far, in El Dorado Hills and the general Sacramento market that is proving to be the case this year, too.
Well priced, well-prepared homes are selling very quickly. Regionally, more than half the home sales in February closed with multiple offers. Inventory is very low and many buyers are frustrated to be unable to find the home they'd like.
TrendGraphix data for El Dorado Hills (below) shows February sales very strong and month-to-date sales in March equally so.
Anecdotally, we are showing homes to buyers every day, we have homes in escrow, and we are working with multiple sellers to prepare their homes to come on the market soon. We've experienced no slowdown in buyers looking for homes or homeowners looking to sell. It feels as if the normal Spring market is still building.
Our advice to our sellers and buyers is to maintain course.
Whether things change over the coming weeks is anyone's guess. So answer this, have your goals changed? Is where you want to live and the home in which you want to live going to change in the next few weeks? For the large majority of people, the answer is no.
Interest rates are at historic lows making the long term cost of purchasing a home lower than ever. Buyers might even have an opportunity to purchase with a bit less competition if some buyers choose to stay in place for the time being. This is good for active buyers, especially if inventory stays low.
If some sellers choose to wait, that means Spring inventory will remain tighter than normal and active sellers will also be in a relatively strong position compared to a typical Spring market.
As always, we are available to answer your real estate questions any time. If you have questions about your specific situation, let's schedule some time to talk.
Call or text us anytime: 916.941.6566.
We are hopeful that the coronavirus problems quickly slow and that all of you remain healthy and happy. (Please don't be offended if we don't greet you with the usual handshake or hug when we see you, it's nothing personal!)
---
---
January 2020
The 2019 Numbers Are In.
Here's What We've Learned:
As strong a real estate market as 2019 gave us, it was less strong than 2018 in EDH as a whole.
$629,389,250
Total Sold Volume
in EDH in 2019
Sales were down and inventory was up. Homes took considerably longer to sell and price appreciation moderated.
Perhaps surprisingly, the softest segment was at the lower end below $800,000. This segment also represented the greatest total number of sales, more than twice the total of homes sold at this price than in the higher priced segments.
For 2020, this presents opportunity for first-time buyers, investors, and those looking to downsize.
In the middle price range, sales and prices rose slightly. This shows a balanced market where neither buyers nor sellers have a distinct advantage. This is likely the result of the increase in the number of homes on the market. The increased inventory is also seen in the 61 days the average home was on the market, up from 44 in 2018.
The segment over $1 million is the smallest market in El Dorado Hills. The higher end market remained virtually even with 2018 in sales and also in the number of homes listed for sale.
Sellers in this price range need to price reasonably and be aware that fewer than 20% of homes listed for sale over $1 million are going to sell in any given month with the average listing needing almost 3 months on market to find a buyer.
This is the one segment where inventory didn't increase and sales remained virtually the same as 2018.
The majority of sales in El Dorado Hills were below $800,000 in 2019 while the number of homes listed for sale below and above $800,000 was almost equal. And while 38% of the homes listed below $800,000 were sold in any given month, fewer than 19% of homes priced over $1 million did the same.
Looking ahead to 2020, we see little reason for the market to change dramatically from 2019. Barring unforeseen circumstances, economists predict the economy to remain strong and interest rates to remain low. We expect we will continue to see buyers coming from outside the area at the same time local homeowners are both moving up and downsizing.
Annual seasonality will lead to more buyers and sellers entering the market between now and July. For buyers, this means more choices and more competition. For sellers, it means more buyers and also more competition for those sellers.
Being well prepared as a buyer or seller will give you a distinct advantage during the Spring market. We are always happy to help you prepare in order to make the best possible transaction!
---
If you have questions about your home or activity in your neighborhood or if you are looking to buy or sell in 2020, now is the time we should be talking!
Call or text us anytime: 916.941.6566.
---
---
In Our Clients' Words:
"Honest, ethical, stellar service & amazing people to work with!"

Alyssa Ficke
Read More From Our Many Satisfied Clients!
---
---
December 2019
The El Dorado Hills home market is in an unusual balance
It is unusual when look back on the year and find ourselves in an almost identical place as we were in one year ago. However, that is the case now, as we look back on 2019. By many measurements, the El Dorado Hills real estate market is statistically almost unmoved from a year ago.
Much as we had forecast, the 2019 real estate market has seen a healthy balance between buyers and sellers. Not to say that homes can't sell quickly (we've sold 17 in under a month each), or that won't be competition for certain homes (we've had several multiple bid situations on both the buyer and seller side this year), just that those situations are the exception.
The number of homes for sale, sold, and under contract in November is almost identical to the numbers from November 2018:
The average price per square foot for homes sold this year has hardly budged:
The one significant change in the market is the amount of time the average home is on the market before selling. Homes that sold in November were on the market an average of 75 days, up 127% from last year:
Interestingly, the longer sales cycle has not brought more inventory onto the market as one might think it would. While inventory has bounced around a bit this year, the big picture shows almost the same number of homes for sale as there were last year!
The Bottom Line for 2019 and into 2020:
Unless your home is the most desirable home in its price point, don't expect a quick sale. (However there are things we can do to help your home sell quickly and we'd love to speak with you in person about those!).
Buyers have become patient. There is less competition to create urgency for most of them and the fantasy that Bay Area buyers are running to El Dorado Hills to drop bags of cash for homes is just that, a fantasy. What we often see is just the opposite – bay Area buyers with expectations that homes in El Dorado Hills will be selling for less than they are! Many are coming here to bargain shop!
For those of you looking to buy in 2020, you are likely to see two different markets.
The first market is made up of more recently built and updated homes with open floor plans and today's amenities. These are the homes in highest demand and selling most quickly.
The second market is homes built in the early 2000's and before that do not have floor plans and features most desirable to today's buyers. Many of these homes are quite lovely and well constructed. They are beautiful family homes and often represent great value to buyers. Think of these as these as a well-cared for 2005 Porsche, a beautiful car in its own right even if it's not the same car (or price) as a current model.
Sellers need to think about their home the same way, but perhaps in inverse. Those of you selling updated or new homes can expect a lot of interest.
Those of you selling older homes or homes not updated need to be honest with yourselves about the product you are bringing to market. Expecting the same value for your home as a newer home, in most cases, is unrealistic. Pricing your home properly based on comporable homes is really important.
Overpriced homes typically aren't seeing offers. The idea that someone will make a low offer is a hopeful strategy and not one we are seeing buyers use with any frequency. (Buyers take note! You never know what a seller might accept if their home has been on the market for a while – maybe you should take a shot!).
If you have questions about your home or activity in your neighborhood or if you are looking to buy in 2020, now is the time we should be talking!
Call or text us anytime: 916.941.6566.
---
In Our Clients' Words
"Honest, ethical, stellar service & amazing people to work with!"

Alyssa Ficke
---
---
September 2019
The El Dorado Hills luxury home market has flattened out. What does that mean for buyers and sellers?
After several years of strong El Dorado Hills real estate price gains, the El Dorado Hills luxury market has flattened. It is important to recognize this shift if you are planning to buy or sell property in the area any time soon.
While some of the change is a seasonal shift we annually in the fall, there can be no question that the growth in luxury homes sales we've seen in El Dorado Hills since 2016 has begun to flatten.
$1M+ Home Sales in EDH 2016-Present
The dark green bars in the chart above track home sales over the past three years in the $1M+ market. Without even squinting, you can see the how the luxury home segment in El Dorado Hills has strengthened in the past three years and how it has also leveled in the past 12 months.
Overall, the growth in the luxury segment is great news for El Dorado Hills homeowners. we are seeing price levels and sales strength in this segment that we had not seen before 2018. So far, the slowing growth is not something homeowners should be concerned about.
The idea that El Dorado Hills is a highly desirable place to live has become a poorly kept secret. The beautiful setting, great lifestyle, agreeable weather, convenient location, good schools, luxury amenities, and relatively affordable real estate will continue to bring buyers from outside the area.
In the past year we've worked with multiple buyers from the Bay Area and others from Palm Springs, Kansas City, Denver, and other markets around the country. As Sacramento's profile continues to grow and improve, El Dorado Hills will continue to benefit as one of best communities in the region.
In the immediate term, the market is clearly catching its breath. Luxury inventory is up, and sales and prices are flat. If you are a buyer or seller in the $1M+ segment, here are some things to think about:
In August, there were 60 $1M+ homes for sale in EDH and 10 sales in this price range. In other words, 1-in-6 $1M+ homes sold last month, and 5-in-6 didn't.
Homes sold in this price range in August averaged 80 days on the market.
Another way of looking at this is to say that if no new homes were to come on the market, it would take 6 months before every $1M+ home in El Dorado Hills to sell.
This does not mean that $1M+ homes can't or won't sell quickly! We'd argue that sellers who bring their new listings well, in good condition, meeting current design trends, marketed well, and priced well, have the opportunity to sell very quickly! Let's explain:
Buyers in this price range, barring outside pressures of a relocation or similar factor, can generally afford to patient and wait for the right home. This means that most buyers in this segment have already viewed the current listings and are either on the fence about making an offer on one, have not found the home they want, or they moved too slowly or bid too low on a home they wanted.
Your first two weeks on the market are critical to quick sale! When a new home hits the market and it presents well online to luxury buyers, buyers are going to want to see the home right away! Remember, these buyers have been looking and either already lost out to another buyer or have not found the right home. A desirable home, marketed well, is always going to get showings as soon as it hits the market!
It's critical in the current market conditions that sellers price properly! The idea that sellers can overprice and expect buyers to make an offer is a concept that rarely matches reality. A buyer with a $1.3M budget is going to visit $1.3M homes. They aren't going to visit $1.5M homes with the expectation that the seller will accept $1.3M. And, since their budget is $1.3M, they are aren't looking to offer $1.1M for a home a seller has overpriced at $1.3M.
Sellers need to come out of the shoot priced sharply or risk losing the opportunity that comes from being fresh on the market. Once all the active shoppers in your asking price range have viewed a home and moved on without making an offer, the buyer pool shrinks to only those buyers just entering market. Not only is this a smaller group of buyers, it is also a group that is generally in the exploratory stage of their buying process.
In an appreciating market, sellers can price high knowing that if they are overpriced, the market is moving in their direction. In a flat or softening market, overpriced homes become stale and sellers are forced to chase the market down; statistically this results in a selling price below where the home would have sold had it been priced right from the outset!
It's important for sellers to think long and hard when one agent tells them their home will sell for a much higher price than other agents tell them it would (in the agent world we call this "buying a listing"). No agent knows what a home will sell for. The best we can do is show you comparable sales – if you price higher than comps in this market you could end up overpriced and missing the opportunity to sell quickly.
It's always best to think of an asking price as the "marketing price." Price higher than comps in a flat market and you might end up sitting on a stale listing. Price right, and you are more likely to see offers quickly.
For buyers, we encourage taking advantage of this same phenomenon in reverse. In the current market, it might make sense for buyers to look at stale listings above their budget. Your $1.3M home might be languishing at 90+ days on the market at $1.5M!
Whether you are buying or selling in this market, we are always happy to provide you with a no-obligation consultation to help you understand your opportunity.
---
In Our Clients' Words
"Honest, ethical, stellar service & amazing people to work with!"

Alyssa Ficke
---
---
August 2019
Wouldn't it be nice if every home sold as soon as it hit the market?
Sometimes things are so good for so long we come to expect that there is a new "normal." Such can be the case with sellers of real estate in El Dorado Hills, there can me a mindset that the recent past will repeat in the near future.
For much of 2017, 2018, and early 2019, we experienced a very strong sellers' market. Many neighborhoods were seeing new highs in prices and some homes were selling in weeks if not days. That pattern continued long enough that many people adjusted their expectations to think that we had a new normal, that the frothy market conditions would never go flat.
But go flat conditions have…
And when I say "flat," that's exactly what I mean, flat. Not up, not down, flat.
"So," you ask, "if the market is flat, why does it fell like the market has slowed down?"
In a word, momentum. The market is moving at a good speed, it's just not currently accelerating like it had been.
Let me give you an example. You know that feeling when you're getting on the highway and you need to punch the accelerator to merge and match the speed of the cars on the highway? Depending on what you drive 😉, you can hear the exhaust howl and feel the acceleration push you back into your seat as you come up to highway speed. That was the feeling our real estate market had in the recent past.
Then, you merge into traffic, let off the gas, and cruise down the highway. Less exciting, for sure, because there is far less change happening. But you're still driving the same 65MPH (or whatever…) you were driving when merged into traffic after accelerating onto the freeway. That is our current market, still cruising at highway speeds.
We're moving at highway speeds, but because it feels less exciting than acceleration, dare I say "normal," it actually feels more like we've slowed down. What's really happened is that we've stopped accelerating.
So what is "normal" in the housing market?
Normal means that, because prices aren't accelerating, buyers feel less pressure. They can take a little more time making a decision, perhaps be a little more picky knowing that there is less of a buying frenzy. Buyers are now cruising down the freeway rather than accelerating, looking over their shoulder, trying to merge from the onramp.
Sellers are also noticing the difference in the market.
Many sellers who are still pricing for continued acceleration are starting to get ahead of the flow of the traffic. Most of those trying to get a record price for the neighborhood or who are asking a premium price for a less than premium home are going to be better off if they let up on the gas pedal and coast back to match the flow of traffic.
A "normal" market means that buyers and sellers agree on a fair price without outside pressures or urgency. It means sellers don't hold all the cards, but neither do buyers. Good homes are still selling at a good price, it might just take a little more patience than we've become used to.
Remember, a well-priced, well-prepared, and well-marketed home will always find a buyer!
---
We'd be happy to talk with you in more detail about your home, your neighborhood. Please email us or call any time! 916.941.6566
---
August 2018 Data on EDH Homes above $1M
---
July 2019
EDH Home Sales Are Starting to Show a Trend
In the three price ranges we studied this month, up to $700,000, $700,000-$1,000,000, and over $1,000,000, none of the three segments performed especially well in June. Of the three, the the highest priced segment, over $1 million, was the only segment not showing a slowdown in sales.
Over the past several months, the data has become more consistent. The market is shifting to a more balanced market not favoring buyers or sellers (though it might feel like it favors buyers after the long sellers market we've enjoyed). Sellers need to take this change into consideration and buyers have a better opportunity than they've had in quite some time.
Sellers who have been afraid to sell because they were afraid they wouldn't be able to find a new home also have a great opportunity in this changing market!
In the lowest priced segment, sales were down 21% while for the number of homes for sale increased by 41% when compared with June a year ago.
In the middle of the market, homes priced between $700,000 and $1,000,000, sales were flat compared to last year while competition for sellers, and opportunities for buyers increased dramatically. The number of homes for sale in this segment, compared to June 2018 was up 78% from 60 homes for sale year ago to to 107 this year!
The highest priced home segment was the only one of the three that showed relative strength in July, relative strength in this case meaning sales and inventory were flat in comparison to one year ago. Of note, though, is the 31% fewer homes that went into contract in comparison June 2018.
We are consulting sellers that this is not the time to be swinging for the fences when you price your home for sale. Buyers have more choices and have have less incentive to move quickly UNLESS yours is the best home at its price point.
Our goal with our sellers to do just that, make your home the most desirable home in its competitive set. Our process has worked consistently well in selling our clients homes quickly and at good prices, In fact, in the past couple of months we've put several homes into contract within days of going on the market by following a proven process. (See our recent sales.)
For the market a whole, there were 1.5x more homes for sale in June than June of '18. Homes that sold averaged 37 days on market. At the current rate of sales, if no new homes were to come on the market, it would take 3 months for every listed home to sell.
It's worth repeating, only the best homes in each price point are selling quickly! When you look at homes for sale in the price range where you want to sell, your home needs to stand apart from the others. Homes that don't stand out will stay on the market longer as more desirable homes with a better location, better floor plan, and/or nicer amenities sell more quickly.
If you are buyer, understand that the best homes in each price point are still going fast and often getting multiple offers. Be ready to pull the trigger when you find the home you've been searching for!
If you are considering buying or selling, we can help you navigate this increasingly tricky market. Let's chat!
---
In Our Clients' Words
"First rate, professional, and personalized consulting and handling of all aspects of our home sale. Simply put, the best real estate experience I've had."

-Michael Bassett
---
June 2019
Was May a Blip, Or Is Something Else Happening?
El Dorado Hills sales across all price points in May were down a whopping 24% from last year!
Should sellers be concerned? Should buyers be poised to take advantage?
Not so fast!
As much as closed sales dropped in May from the year prior, homes put into contract increase by even more! 122 homes in El Dorado Hills went into contract in May, up 27% from May 2018 and up 58% from April 2019.
What are we to make of these mixed signals?
When we look at May data at different price segments we see similar activity. Closings in May were off and new contracts were up. Under $650,000, $650,000 – $1M, and $1M+, all segments show the same May softness in closes and the same strength in the number of pending sales.
We don't always see the whole market move in sync like this, often the low end will show strength when the upper end is soft, or high end sales will be strong but the lower priced home sales will be down. In May, closings across the spectrum were down while homes going into contract were up!
Because we only see sales data in the rearview mirror, it's difficult to tell if May sales were an anomaly, or they foreshadow a softening to come. We won't know for certain for a few months.
Instead, we'll share our thoughts based on our firsthand experience over the past few months including conversations we're having with buyers and sellers.
The typical Spring sales never materialized this year. Or, maybe, they were just delayed!
In large part, we feel, this was due to the almost unprecedented rains that continued well into April. The market experienced what we call, "Rain Fatigue."
Buyers simply were not interested in braving another stormy weekend to go look at homes. Think of it, how many families are going to load up the kids, and drive up from the Bay Area in the rain weekend after weekend to look at homes? At some point, they just decided to wait for better weather.
When the weather finally cleared up in May, BOOM! There was pent up demand and in May homes started going into contract at a rate we haven't seen in over 5 years!
Pending Sales in May '19 were 30+% higher than in any May for the past five years!
| | |
| --- | --- |
| Year | # of Pending Sales |
| May 2014 | 79 |
| May 2015 | 96 |
| May 2016 | 81 |
| May 2017 | 88 |
| May 2018 | 96 |
| May 2019 | 122 |
Source: El Dorado Hills data, TrendGraphix
So, while media reports are telling us the housing market is slowing (Sac Bee, June 25), we see data that suggests that wasn't the case at all in May!
When it comes down to it, it is your personal circumstances that determine whether or not it's a good time to sell or buy a home.
We caution you not to miss your opportunity because of news reports that might now be showing the whole picture.
If now is the time for you, we'd love a chance to to talk and to earn your trust and to assist you through the process.
---
---
What Our Clients Say About Our Service:
"We were referred to the Yoffie Team by a friend, and we are so happy we were. Shannon was able to find us the perfect house, (which I was not sure we were going to be able to as the checklist was pretty long). Their guidance and knowledge helped us strategically position ourselves on a multi-offer house, that we did not want to lose. In the end, we got the house we wanted and at a price we were more then happy with. I am so grateful we were referred to them!"

-Steve Parkhurst

Read More of Our Client Testimonials
---
---
May 2019
We are in a Market of Markets
When someone asks, "How's the real estate market?" the answer for us is almost always, "Great!" That doesn't mean the market is great for everyone, though!
This time every month we start crunching the monthly TrendGraphix data to make sure we understand what our clients are facing. Whether buying or selling, activity for different price points and neighborhoods in El Dorado Hills are always going to vary.
For example, below is a chart showing sales all of El Dorado Hills at all price points for the month of April. At the bottom you can see a direct comparison with the same data from April 2018.
If we were to look at the market in totality, we'd think things are pretty soft. For the market as a whole, sales are down 14% and homes under contract are down 13% compared to April 2018.
But no one shops the market as a whole, which is why we dig deeper.
For example, the luxury segment above $1 million shows an entirely different picture:
In the $1M+ segment we that instead of sales being off, they are actually up 9% and homes in contract are up a whopping 40% compared to last April!
But even that doesn't necessarily show the clearest picture.
Above $1.25 million, the data again shows a different market:
Here again, we see a drop in sales of 29%. Equally importantly, we see that out of 35 homes for sale above $1.25 million, only 5 sold in April, 1-in-7. Perhaps a better time to be a buyer at this price than a seller?
So where is the strength over $1 million? Between $1M and $1.25M.
Between $1 million and $1.25 million, sales in April were up 75% from April a year earlier. And equally importantly, better than 1-in-3 homes sold!
This is important information for sellers to understand . Where do you want to be priced? It is pretty clear that there is a ceiling around $1.25M for luxury sellers who are looking to sell quickly. Being priced where 30 of 35 homes are sitting on the market can be a tough spot. Granted some of those homes are priced well above $1.25M, but others are priced at $1.3M and are sitting when they might have sold at $1.25M!
We review these types of pricing and sales trends with sellers to help you determine the best price range for your home. You certainly might choose to price higher than where the buyers are, and if you do you will have a good understanding as to why it might take a longer for your home to sell. Or, you can choose to price in "sweet spot" for a quicker sale.
No matter where you price your home for sale, have an understanding of how that price range has performed in recent months. It could be difference between a quick sale and a stale listing!
Questions about the market? We love talking real estate! Give us a call or drop an email!
---
Considering selling? Download The Ultimate Home Seller's Guide
As a home seller, it is easy to get overwhelmed with the million-and-one things you have to think about. We created this FREE guide to help you along the way.
---
---
April 2019
Will The Spring Housing Market Please Stand Up?
Just a month ago we were showing you how when the sun come out during the first half of March the local housing market sprouted like all those weeds in garden. Then, the rains came back… and home buying slowed again considerably.
The question now is whether the window has closed for a robust Spring housing market, or has it just beed delayed? With warm and sunny weather forecast for the foreseeable future, we are about to find out!
After a strong start, March homes sales cooled considerable compared to 2018. Considering that the economy has been strong and interest rates are near historic lows, we expect to see a much stronger April and May.
---
One issue we see as we tour for sale homes in the area is a fewer number of "move-in ready" homes. We can't emphasize enough the need to properly prepare your home for sale! What does that mean?
At minimum, home sellers should:
De-clutter every room.
Make sure the house is spotlessly clean.
Touch up paint, or even re-paint if necessary.
Hide unsightly things like laundry baskets, garbage cans, vacuums, etc.
Take down as many "personal effects" as possible (pictures, things hanging on the fridge, etc.).
Make sure all light bulbs are working (for brightness).
Make sure the yard is in tip-top condition.
---
Learn More!
Download The Ultimate Home Buyer's Guide
We created this FREE guide to help you along the way. Inside, you will find everything you need to help you sell yor home quickly and for the most money!
Do you have questions about selling your home? About the status of the local real estate market? We are happy to answer any questions you have! Give us a call or send us a message any time!
---
March 2019
Spring Has Sprung in the El Dorado Hills Real Estate Market
If you were wondering if the Spring market would ever heat up, all indications are YES!
When the sun come out earlier this month, so did the buyers! There is pent up demand for move-in ready homes, especially at the lower price points below $750,000.
We aren't yet predicting a repeat of Spring 2018 when multiple offers were almost the norm, but that doesn't mean a well-priced, well prepared home won't get multiple offers (in fact, we did on a listing just this past week!).
We admit to being a bit surprised to see the March numbers through the 19th – sales were up 79% compared to a month earlier! The number of homes that went into contract were also up 49% from February!
What happened?
Buyers, particularly in the segments below $750,000 where we are seeing the majority of activity, have been frustrated with the small number of homes that meet their needs and expectations. They are telling us that they can't find updated homes that are move-in ready, so when one comes on the market that meets their needs, they are pouncing!
This doesn't mean they are buying just anything!
In fact, we are seeing just the opposite. Buyers are being patient, waiting for the home that they can comfortably move into right away. They aren't looking to invest in updating the master bath or kitchen. They want fresh paint, nice landscaping, and a good location. To be truthful, we were a bit surprised at the lists of wants we see from buyers right now. Many have been looking all winter and have been disappointed with many of the offerings available. They are ready to buy!
Buyers won't overpay
As much as buyers want a move-in ready home, they also are budget conscious. Most of the buyers we're seeing in the lower price points are families with younger children. They are working to balance purchasing a new home with all the other expenses involved with being young parents. While we haven't found that buyers are making lowball offers, we also aren't seeing them willing to "pay whatever it takes." Price and prepare well to sell quickly!
Are you a buyer?
Have your ducks in a row before you make an offer. If you fall in love with a home that has just hit the market, expect that there are other families equally excited about that home. To make your offer as strong as possible, do the following:
Get pre-approved for a loan. (If you don't have a lender, we'd be happy to make introduction to one that fits your needs).
If the home just hit the market, and you want it, don't lowball your offer. Make your first offer as strong as you can. Don't lose your dream home over $5,000 if you would have been willing to pay $5,000 more!
There are others buyers just like you out there. If you see a home come on the market that looks like a good candidate, have your agent get you in for a showing as soon as possible! (We often know about homes before they hit the market, giving our buyers a further leg up!)
If possible, don't make your offer contingent on selling your current home. Of course that isn't always possible. There are creative work-arounds, however. Talk to us or your lender about ideas that have worked for others.
If your offer must be contingent on the sale of you current home, have your home already on the market! Sellers are not likely to be willing to take their home off the market for a buyer whose home is not already for sale. If your home sells before you find a replacement, having the money ready while you rent for a few months can put you in a much a stronger buying position.
Learn More!
Download The Ultimate Home Buyer's Guide
We created this FREE guide to help you along the way. Inside, you will find everything you need to help you find and purchase your dream home!
We are always happy to answer any questions you have whether buying, selling, or are just wanting to be informed! Give us a call or drop us a line!
Get our newsletter to have these updates sent straight to your inbox

Subscribe HERE
---
February 2019
What will the Spring El Dorado Hills Real Estate Market Bring?
One thing we can assure you, it will not be a repeat of Spring 2018!
The El Dorado Hills real estate market continues to shift away from the heavily tilted sellers' market we experienced last year towards a more balanced market.
By no means is the sky falling. Adjust expectations appropriately and buyers and sellers will continue to reap the benefits of a healthy real estate market.
The year is starting off with very healthy sales, particularly at the upper end of the market for homes that are well-prepared and correctly priced. January saw sales of homes over $1M match 2018 numbers with 5 closed sales and the number of $1M+ homes that went into contract in January jumped to 9, 200% above January 2018.
Inventory at the high end also jumped. January saw 40 $1M+ homes on the market. The higher sales balanced out the higher inventory leaving us with the same 8 months of inventory as in January 2018.
The good news is that well-prepared, well-priced, well-marketed homes are at the higher end are moving. The tougher news is that if you are a seller in that segment, you can expect there to be more competition this year. It's imperative that luxury homes shine if they are going to sell quickly!
---
Get our newsletter to have these updates sent straight to your inbox

Subscribe HERE
---
Below $1M is where we start to evidence of shifting market.
January sales below $1M were off by 25% with 33 sales compared to 2018's 44. Pending sales faired better, down only 6.3% with 43 homes going into contract in January. At the same time inventory in the under $1M segment increased by 7.3%.
A year ago there was 1.9 months of inventory under $1M, January say that number spike 50% to 2.7 months. This is the highest level of inventory we've seen since 2017.
On the flip side, buyers are in a stronger position than in quite some time. With increasing inventory and increasing competition among sellers it is in buyers' interest to get shopping!
---
Get our newsletter to have these updates sent straight to your inbox

Subscribe HERE
---
January 2019
What a Difference a Year Makes!
A year ago we were still wondering if the strength building in the lower price points in El Dorado Hills was going to transfer into the higher end of the market. We had just begun to see signs that it would. At the same time anything priced under $650,000 had buyers lining up
A year later the higher end of the market is the driver while the lower end has slowed considerably.
What changed?
For one thing, the stock market did. A year ago the Dow Jones Industrial Index was enjoying an annual gain of about 30% and was sitting at 26,150. Wild swings down, up, then down again since then have the Dow at 24,065 as of this writing. Up off the lowest point and still unpredictable. Many lower-end buyers were feeling flush and optimistic while the market was booming and are considerably more concerned as when bounces up and down.
For another, mortgage rates are up from about 4% to about 4.4%. While incredibly low historically and lower than they were much of the second half of 2018, the 10% increase is significant for buyers at the lower end of the market.
Current events also can't be discounted when evaluating why more folks, especially at the lower end, are being cautious. When people are unsure what the future holds they tend to sit on their hands waiting for stability.
So what now?
We are continuing to see strong activity in the higher end, from $1,000,000 to about $1,600,000. Sales above $1,000,000 were up 267% in December compared to December a year ago.
A well-prepared, well-priced, well-marketed home is going to generate interest. However, don't count on setting a price record for your neighborhood. Price per foot in this segment was off 17% in December.
We expect to see a healthy Spring real estate market, one that is more balanced between buyers and sellers than last year. Barring changes, we don't expect to see the same number of multiple bids on lower priced homes as we had last year. Buyers are looking for turnkey properties that match the values they are seeing for comparable homes.
We are advising sellers to get their home in tip-top shape and price where recent sales can justify the purchase. Last year we advised getting your home on the market before the Spring rush and we are advising the same this year with perhaps a bit less urgency.
We are advising buyers that this is as a good a time to buy as we've seen in quite some time. Mortgage rates have backed down and competition among buyers is less fierce than it was a year ago.
While we can't predict what the coming days, weeks and months will bring or where prices go from here. We have seen nothing that indicates we're looking at a market crash. The balanced market we're seeing is a healthy market for buyers and sellers.
Questions? Want to talk further? Let us know!
theyoffies@yoffierealestate.com or Phone/Text: 916.941.6566
---
December 2018
The NEW El Dorado Hills Real Estate Market is Here
The real estate market we experienced last Spring where every home listed had buyers waiting is over. The difference between the market last March and today is glaring.
We have entered a new real estate market in El Dorado Hills
Last March the market could not be any hotter. Sales were up 43% compared to the previous March and pending sales were up 25%. Sellers were getting multiple offers and many were getting offers above asking price. A great time to be a seller. Perhaps not as good a time to be a buyer.
---
November numbers show a completely different market. Now we see year over year sales and pending sales dropping in El Dorado Hills.
---
Where the lower priced home segment was driving the market last Spring, it is now the slower part of the market.
---
Home sales between $700,000 and $1 million while starting to slip are showing strength in comparison to lower priced homes.
---
In the $1 million+ luxury segment, which was lagging a year ago, we now see the greatest strength. Though the unit numbers are small, sales and pending sales were both strong in November.
---
If you are considering buying or selling real estate in 2019, we're sure these El Dorado Hills real estate trends will raise questions. We'd happy to talk to you about your specific needs and how you can use the changing market to your advantage! Call or text us any time! 916.941.6566
---
---
November 2018
Can the national media really tell you what's going with El Dorado Hills real estate?
Does the Sacramento Bee really dig into El Dorado Hills real estate trends and data?
---
Since, as the saying goes, all real estate is local, we keep you updated on the El Dorado Hills real estate trends.
Below is our most recent update from November, 2018.
---
---
Curious about trends in your neighborhood?
Want an idea of your home's current market value?
While tools like Zillow are great for aggregating data, they really aren't very good at getting to granular data on a street-by-street or home-by-home level. That's where we come in!
Our local market knowledge allows us to share with you sales trends for your neighborhood and even your block. We also can evaluate the condition and amenities of your home in comparison with homes that have recently sold. With this data, we can provide you with a much more specific market valuation that you can get from one of the data aggregation sites.
Curious? Let's chat!
Fill out the form below, email us at theyoffies@yoffierealestate.com, or phone or text us 916.941.6566!